SPRING LEAGUE UPDATES - Must Read!
iTEM #1 Coronavirus
At this time the spring seasonwill start and continue as scheduled. One item we are asking all teams to avoid for now, is please no handshakes and/or fist bumps before or after the game with the players, coaches and referees.
ITEM #2 Spring Schedules are now posted
All coaches and team managers need to check that they have been scheduled for their six (6) games. If you have not been scheduled for the required six games, it may be due to two reasons; 1) BYE request (per yours or your opponents request) or 2) your team is in a bracket with an odd number of teams; if this is the case, these games will be posted with a date of Sunday, March 1st and noted "Bye Week."
To schedule these games, please review the procedures posted in the FORMS section under "Canceled Games," and the Bye Request" sections.
You and your opponent are required to make the necessary arrangements to schedule and complete these games by Sunday, May 17th 2020.
If there is any problembetween the two teams in making up a game; both voaches must contact their league commissioner immediately.
LEAGUE DAYS and COMPETITIONS
The C.M.S.A Spring League provides separate Boys and Girls competitive age divisions that play on SUNDAYS ONLY.
The 2020 Spring Season will consists of six (6) games and The Old Line State Classic (optional ) scheduled for the weekend of May 2nd & 3rd. Fees ans additional Old Line tournament information is available under the Tournament tab.
The tentative spring schedule is as follows: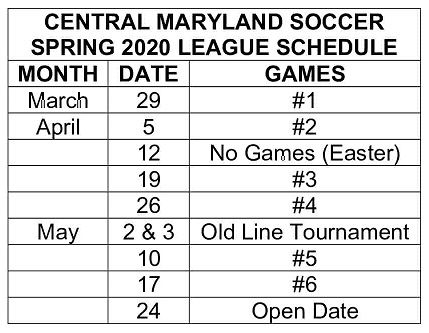 The league will operate between March 29th and May 24th. All games and make-ups must be completed by the posted end date to be counted in the standings.
Those teams that end up assigned to odd sized age groups will receive a byes during the season. The bye games will need to be scheduled by the teams. The league will no longer schedule these games as double header games.
Those teams that request a Bye during the season, will need to follow the bye request form instructions.
LEAGUE REGISTRATION DATES
Starts: JANUARY 1, 2020
Ends: FEBRUARY 15, 2020
REGISTRATION FEES
Team Registration Fee: (For All Age Groups) $395.00
The Registration Fee does not include the Referee Fees; which are listed below.
Team Registration Fee after the 02/15/20 Deadline: $495.00.
FORFEIT BOND:
U8 – U10 @ $200 per team
U11 – U18 @ $300 per team
Those teams WITHOUT AVAILBLE FIELDS for CMSA to schedule a minimum of two (2) games back to back games; must submit a forfeit bond. For U8, 9 & 10 the bond is $200.00; for U11 through 18, the bond is $300.00. The bond will be deposited in the bank, and if not used, it will be refunded at the end of the season, or can be applied to the fall 2020 season. Clubs with three or more three teams registered in the league with NO FIELDS; will need to post a $500.00 performance bond for all teams entered.
FIELDS
We cannot use your field unless we have the ability to schedule at least a minimum of TWO back to back games at the same location. Teams/Programs that are supplying the league with Fields must complete & submit the Field Allocation Form which can be found under the Forms Tab.
REFEREE & ASSIGNOR FEES (TOTAL COST FOR 6 GAMES)
All teams must pay their League & Referee Fees with a Credit Card, Debit Card or through a Program Checking Account if pre-Approved. The total League & Referee fees are paid as one combined payment.
Programs/Clubs that want to be pre-Approved to pay for all teams in their Club with one bulk Program/Club check will need to contact the office to receive a Program CODE to Register & Pay. Programs/Clubs must have at least (3) teams registering to be given a Payment Code. Coaches need to check with your Program Chairperson for your payment status.
REFEREE FEES
2012, 2011 & 2010 (7v7) $34.00 per team per game X 6 games (1 referee) = $204.00
2010, 2009 & 2008 (9v9) $50.00 per team per game X 6 games (2 referees) = $300.00
2008, 2007 & 2006 (11v11) $62.50 per team per game X 6 games (2 referees)= $375.00
2005- 2002 (11v11) $72.50 per team per game X 6 games (2 referees) = $435.00
No referee fees are paid on the field.
Referee fees are paid at the time of team registration.
GAME LENGTHS
U8–U10 (7v7) 2x25 min. halves
U11-U12 (9v9) 2x25 min. halves
U13 -U14 (11v11) 2x30 min. halves
U15 -U18 (11v11) 2x35 min. halves
ROSTER SIZES (Spring League Roster Only)
This information can be found under the policies tab:
CMSA League Roster Requirements
Players can play for 2 teams provided they are carded through the same affiliate and are playing up in the next age group. They must appear on the other teams League Certified Roster. NO GUEST PLAYERS are allowed for league play.
All teams MUST have a League Roster completed through SAY or US Club. The roster & cards will need to be Processed , Stamped & Laminated by your CMSA registrar.
WEATHER CANCELLATIONS
Inclement weather field closings must be reported by the Hosting program to the CMSA office prior to 9 AM on game day (or if your field has early AM games scheduled, then we need to know by 6:30 AM). If a field closing is not reported, the Host program will be responsible for all fees incurred. All announcements will be posted on both the CMSA website (Home Page) and on our Facebook page between 7:00 & 11:00 am.

ADDITIONAL GENERAL INFORMATION
COACHES AND MANAGERS ARE RESPONSIBLE TO REVIEW THEIR TEAM'S SCHEDULES PRIOR TO EACH GAME FOR ANY CHANGES, ADJUSTMENTS OR CANCELLATIONS AND NOTIFY THEIR PLAYERS.
COACHES AND TEAMS ARE REQUIRED TO SET UP ON ONE SIDE OF THE FIELD; WITH ALL SPECTATORS SET UP ON THE OPPOSITE SIDE OF THE PLAYING FIELD FACING THEIR TEAM.

UPCOMING CMSA SPONSORED EVENTS
May, 2nd & 3rd

OLD LINE STATE CLASSIC (Harford County)

June 20th & 21st
For additional area tournament information, Visit baltimoresports.net